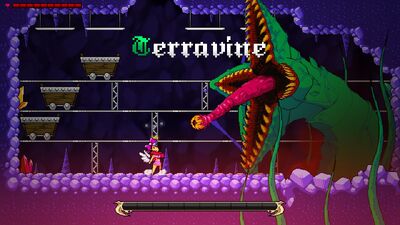 Terravine is, depending on the player's path, the 5th or 6th boss in the game.
It's also the second - and last - boss in the Sinister Grotto.
Properties
Edit
Touch - 19/25/38 HP
Terravine Spawn - ?/20/30 HP (On contact) ?/15/23 HP (When shot)
Ground Vines - ?/20/30 HP
Centrifugal pellets

Purple - ?/5/8 HP (Has a poison effect that slowly drains ?/5/8 HP for a limited period of time)
Yellow - Paralyzer, causes Vi to run slower, jump lower heights and to stay still when sliding.
Green - Soporific, causes Vi to fall asleep, rending her very vulnerable to damage.

Slime Puke - ?/20/30
Laser Beams - ?/20/30
Stalactites - ?/20/30
Death Ray - 50/100/100
Minecart - Counter-attack, stops the Death Ray once. 3 chances.
Rage (Demon mode only)
Edit
After every Death Ray, the boss will use its Rage attack once.
Rage Mix

Vines - 30 HP
Laser - 30 HP
Stalactites - 30 HP
Example Gameplay
Edit
Related achievements
Edit
| Name | How to | Reward |
| --- | --- | --- |
| "Kick Grass!" | Defeat Terravine | Head |
| "Kick Grass: Flawless!" | Defeat Terravine without taking any damage | Skin color |
| "Economic!" | Defeat Terravine with at least one minecart left in the room. | - |
Non-cosmetics
Edit
Toolbox (Outfit - Darkheim Robes) + Entrance into the Underworld
Cosmetics
Edit
Terravine is one of 4 bosses without an intro, the others being Electram, Kratarac and the Ancient Constructs.
Terravine is one of 2 bosses with a time limit (the Death Ray can't be countered more than 3 times), the other one is the Dark Annihilator.
After defeating Terravine, the player must use the help of Amethyst to pass through a magical barrier. Attacking the barrier does nothing, and touching it will only make Vi jump back to the left.
Despite falling down the hole after defeating him, there are no traces of Terravine in the Underworld.