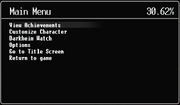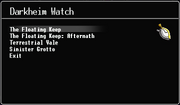 Darkheim Watch is a tool with which you can travel back in time to previous levels and collect items you may have missed.
It is accessed in the menu. It is the only way to get to a certain level immediately. Levels accessed through Darkhein Watch are limited: one can't travel to one place and proggress in the game. Darkheim Watch can only be used to visit the levels Vi has already been to in that specific save. New areas are listed on the menu as Vi progresses. 

Memories
Edit
Note: The text in italic is not part of the name but explains what happens in that memory.